Posted Wed, Sep 13, 2023 10:28 AM
Timeframe: Thu, Sep 21, 2023 10:00 AM - Thu, Sep 21, 2023 12:00 PM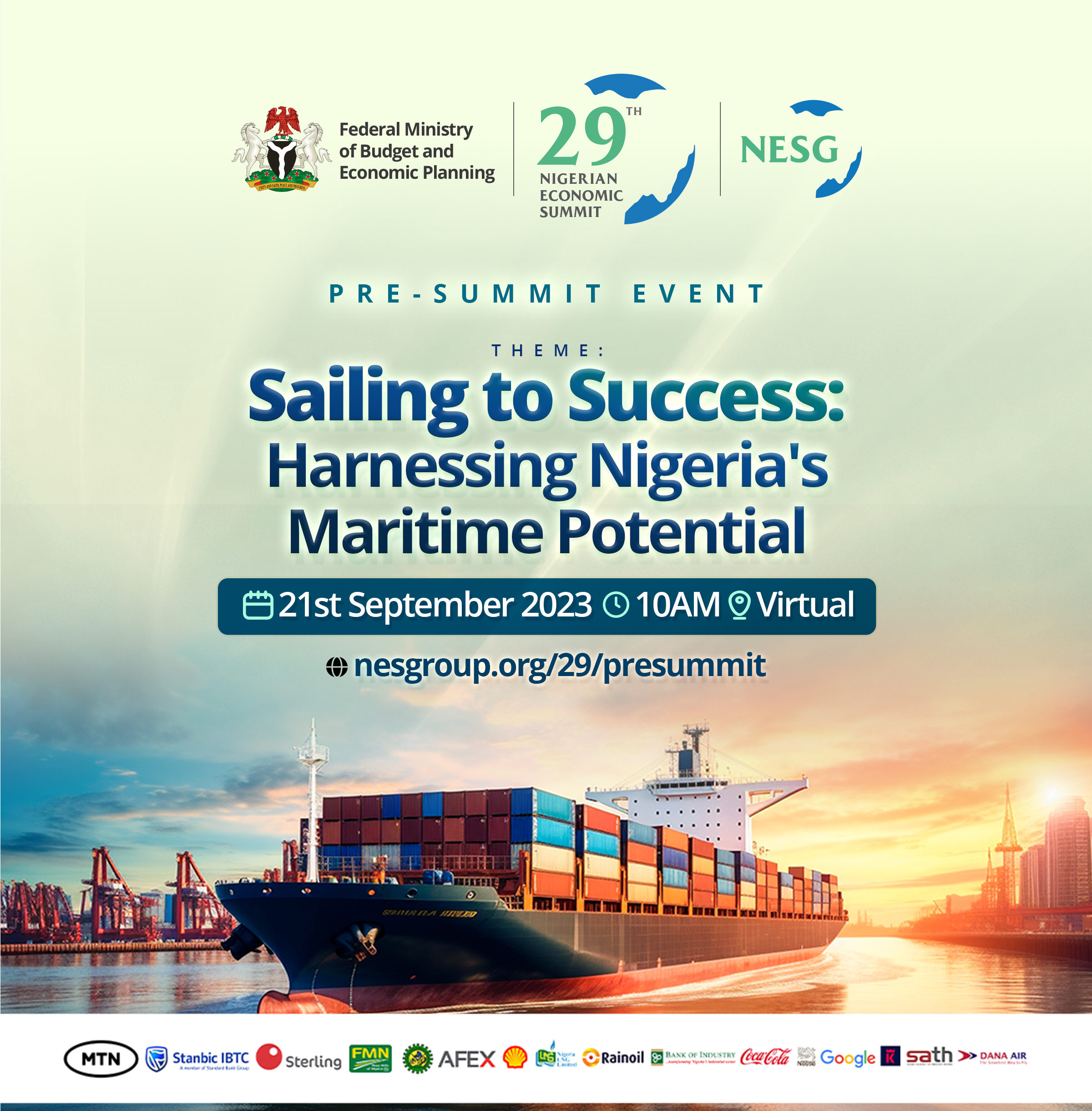 The maritime sector in Nigeria has long been grappling with a myriad of issues that have hindered its competitiveness on the global stage and its contribution to the nation's economic growth. Unwholesome and sharp practices have marred the nation's ports, rendering them unattractive, unfriendly for trade facilitation, and less competitive than their global counterparts. These challenges have adversely affected trade facilitation, economic growth, and overall competitiveness in the global market (Adeyemi, 2020).
The creation of the Ministry of Marine and Blue Economy in 2023 underscores the government's determination to foster a more coordinated and integrated approach to maritime development. This significant policy development represents a pivotal shift in Nigeria's maritime strategy, encompassing both traditional maritime activities and the blue economy, which includes fisheries, aquaculture, marine tourism, and renewable energy.
A notable challenge in the Nigerian maritime sector is the lack of comprehensive national data that captures its various facets. This deficiency has hindered policymakers from fully understanding the sector's economic worth and contribution to the GDP. The absence of up-to-date and reliable statistical information has constrained efforts to quantify the sector's importance and performance (Odu, 2020).
Addressing these data deficiencies is crucial, as it can unlock the sector's potential for economic growth and job creation. It will also aid in defining what data needs to be collected and how to effectively utilize this data, particularly in the context of the National Transport Policy. Comprehensive data will enable the government to attract potential investors and demonstrate the maritime sector's economic significance (Odu, 2020).
In the midst of these challenges lies a maritime sector teeming with untapped potential, poised to serve as a catalyst for Nigeria's economic transformation and inclusivity. The establishment of the Ministry of Marine and Blue Economy signifies a pivotal moment in Nigeria's maritime journey. It's a moment that acknowledges not only the sector's challenges but also its vast opportunities. As we set sail towards the pre-summit event, "Sailing to Success: Harnessing Nigeria's Maritime Potential," we embark on a voyage of discovery, innovation, and collaboration. Together, we aim to chart a course that leverages this sector's potential for sustainable economic growth, competitiveness, and private sector engagement. This pre-summit event serves as our compass, guiding us towards a future where Nigeria's maritime sector thrives, creating jobs, driving economic growth, and contributing significantly to the nation's prosperity