Posted Wed, Feb 1, 2023 11:24 AM
Timeframe: Tue, Feb 14, 2023 10:00 AM - Tue, Feb 14, 2023 2:01 PM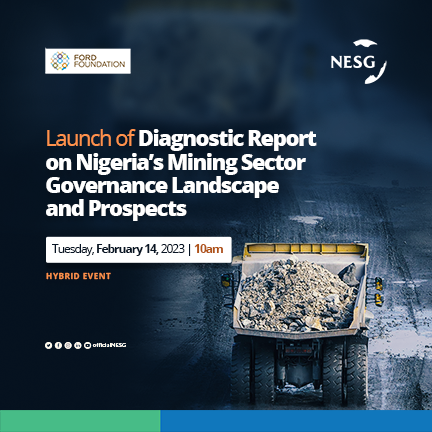 Nigeria's mining sector is one of the many sectors holding the country's enormous growth prospects. Despite this, the sector contributes meagerly to the nation's overall Gross Domestic Product (GDP), at 0.5 per cent (2018), performing unsatisfactorily compared to some of its solid mineral resource-rich African counterparts.
Moreover, with a contribution of 0.3 per cent to national employment and 0.2 per cent to total export, the sector's potential for local employment creation and revenue diversification is far from being fully realised in the Nigerian context. Several challenges have contributed to this grim reality, ranging from a weak legal and regulatory framework, government policies and programs, lack of adequate and up-to-date geoscience data to attract investment, widespread illegal mining to inadequate infrastructural facilities, etc.
In this regard, the Nigerian Economic Summit Group (NESG), with support from the Ford Foundation, has developed a diagnostic report on the Nigerian mining sector, critically examining the status, strengths, weaknesses and opportunities for improvement. A gender assessment was also done to identify gaps and opportunities for promoting gender equality within the sector. The report recommends policy and reform actions and includes a scenario analysis to understand and quantify the economic impact of policymakers' actions or inactions on the contribution of the sector to select socioeconomic variables.