Posted Fri, Sep 1, 2023 8:32 AM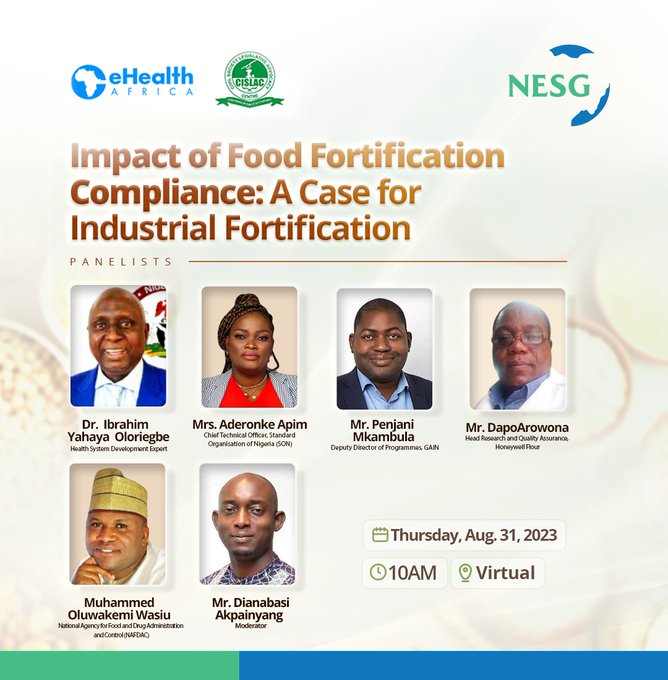 On Thursday, the 31st of August, 2023, the Nigerian Economic Summit Group (NESG), in collaboration with eHealth Africa and the Civil Society Legislative Advocacy Centre (CISLAC), held a webinar with the theme "Impact of Food Fortification Compliance: A Case for Industrial Fortification."
In his opening remarks, the Country Director of Global Alliance for Improved Nutrition (GAIN), Dr. Michael Ojo, said that the third-party advocacy is a partnership between the NESG, eHealth Africa and CISLAC with technical support from GAIN, which is aimed at stimulating advocacy around food fortification compliance, identifying efforts and draw up actionable recommendations that will encourage industrial fortification.
Furthermore, Dr Ojo stated that Nigeria is blessed with rich agricultural resources but finds itself with the challenge of micronutrient deficiency, which has profound socio-economic implications. Dr Ojo noted that the government has taken action in terms of policy which encourages the fortification of staple foods and agencies such as the National Food Drug Administration and Control (NAFDAC), the Standards Organisation of Nigeria (SON) and the Federal Competition & Consumer Protection Council (FCCPC) have been entrusted with ensuring adherence and monitoring of producers to ensuring fortification compliance.
He commended the private sector, a pioneer in enforcing fortification at the industrial level, but noted that many producers need to catch up, underscoring the need for collaboration between all sectors. He reiterated that the Micronutrient Fortification Index (MFI) championed by TechnoServe is producing advances in fortification processes and that Food fortification is a cost-effective strategy, which is pivotal in reducing Micronutrient deficiency.
During the panel session, Global Program Lead for Food Fortification at GAIN, Mr Penjani Mkambula, stated that over the years, fortification has been helpful not only in reducing micronutrient deficiencies but also in reducing certain disease burdens and medical conditions such as Goitre, which was reduced through the introduction of iodised salt. He noted that Food Fortification goes back as far as 1925 in countries such as Denmark and over the years with the Fortification of Milk with vitamins A and C. He noted that fortification has been proven to have a positive outcome over a long time in high-income countries, considering that Micronutrient deficiencies affect over 2 billion people globally and fortification effectively controls MND, especially in women and children.
A Health System Development Expert, Senator Dr Ibrahim Yahaya Oloriegbe, said that malnutrition is a persistent barrier to the country's growth, noting that people at the household level may recognise malnutrition but usually have difficulty associating it with food with spiritual problems. He reiterated that culture, food habits of people, power dynamics in a family and socio-economic issues such as the purchasing power of individuals and the environment may significantly affect or encourage malnutrition. "To solve this, educating traditional institutions and religious leaders on the importance of consuming fortified foods will go a long way in reducing micronutrient deficiencies. It is also important to engage with governments at all levels, especially the local governments, as they have market access and provide food palliatives to a lot of communities," he stated.
Senator Oloriegbe also stated that storage and handling of foods is a significant problem, as vitamins and minerals tend to lose value when stored at the wrong temperature, handled and stored improperly while noting that community education will ensure that retailers and wholesalers know how to handle food produce in a way that ensures nutrients get to the end users.
Head Food Group, Standards Organisation of Nigeria (SON), Mr YB Mohammed, who was represented by the Chief Technical Officer and acting state coordinator, Lagos State Office, Mrs Aderonke Apim, said that food fortification compliance can have a severe impact on the health of the public by helping to reduce cognitive and physical development in some children. She noted that Industrial fortification is vital as it helps ensure that foods with high nutritional content reach many people. She revealed that compliance can be achieved through a robust regulatory framework that includes audit, training and education on standards while noting that some of the challenges of food fortification compliance include a lack of awareness about standards, limited capacity to enforce standards, lack of resource to ensure compliance and cultural and political bias.
The Head of Research and Quality Assurance, Honeywell Flour, Mr Dapo Arowona, stated that when fortification kicked off in 2002, there were initial challenges as the mills were not designed to accept external ingredients or premixes that contain micronutrients which resulted in modifications that came at a considerable cost to food producers. He noted that a lot of producers are willing to comply with fortification standards, but a significant constraint impeding fortification compliance is customs duty on certain micronutrient premixes, such as Vitamin A, which is classified as a finished product with a 20% duty rate.
Mr Arowona reiterated that the ease of doing business is a bigger reality, and if duty rates are reviewed downwards, fortification compliance will increase as food producers will be encouraged to comply better.