Posted Thu, Jan 19, 2023 11:49 AM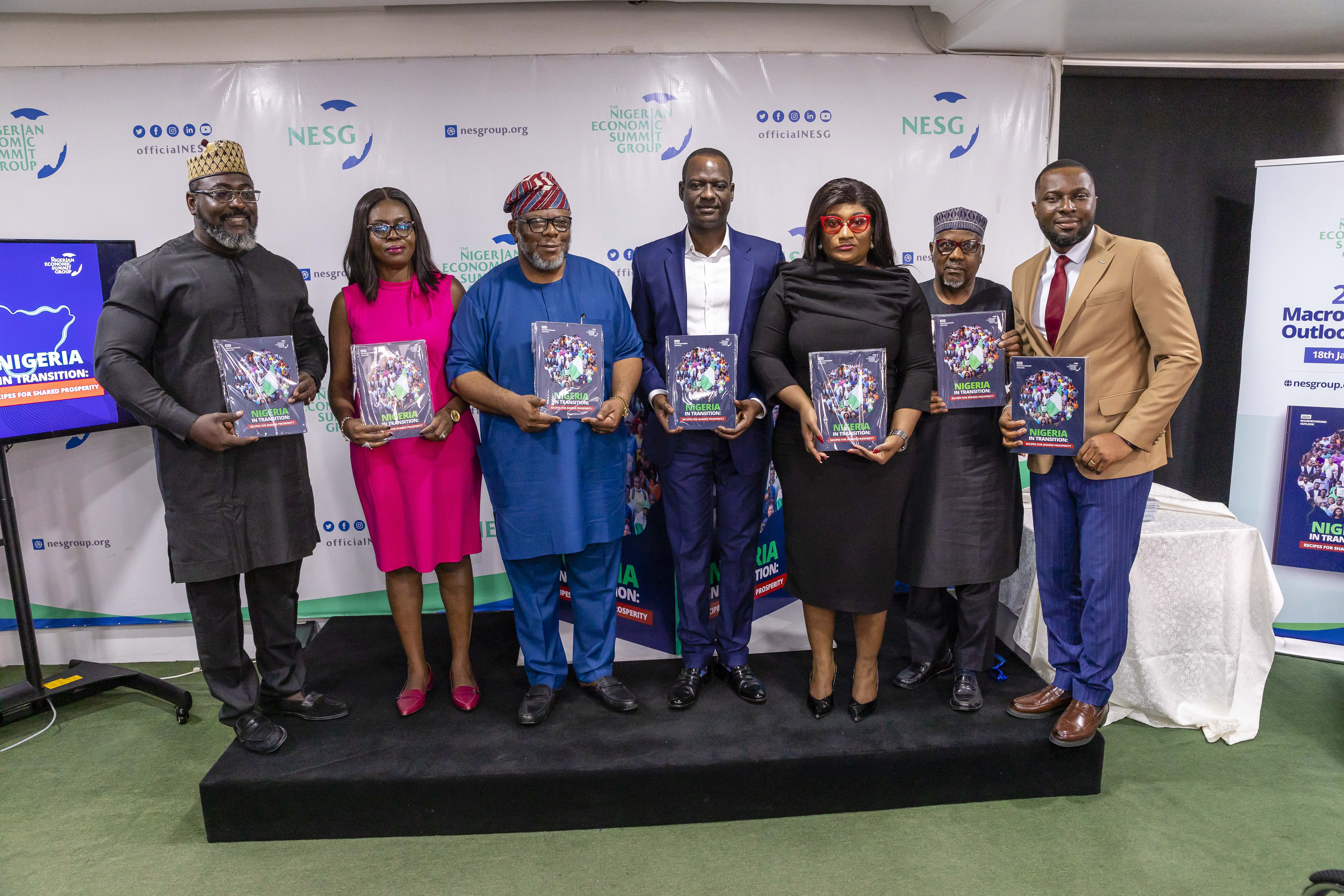 On Wednesday, January 18th 2023, the Nigerian Economic Summit Group (NESG) released its macroeconomic outlook report for 2023 with the theme "Nigeria in Transition: Recipes for Shared Prosperity."
The chairman of the board of the NESG, Mr. Niyi Yusuf in his opening remarks said that the 2023 #NESG macroeconomic outlook report comes at an auspicious time and the report takes a look at how all Nigerians can benefit from shared prosperity.
The head of research and chief economist at the #NESG, Dr Olusegun Omisakin said that Nigeria didn't have a robust enough growth in 2022 and that the country was not devoid of high inflation despite the economy growing by 3.1 percent. Furthermore, he said Nigeria's debt crisis is not sustainable and in terms of the investment climate, the country is lagging behind, despite the CBN using monetary policy rates to ensure stability. Dr Omisakin noted that Nigeria's economy was weak, fragile, vulnerable and devoid of prosperity for the people in 2022 and that any policy direction or discussion must not look beyond how we grow but into critical socio-economic indicators that shows that the country needs deeper reforms.
Furthermore, Dr Omisakin noted that the COVID 19 pandemic, financial, policy, regional, micro and macroeconomic challenges impacted trade negatively. "From 2020 to 2022, the global push against poverty was stopped, as more people become poor and fewer people become richer. Different policy interventions introduced to narrow the gap concludes that as the global economy improves, there is a need to ensure that the excluded are included and that the income gap and other interventions must be done systematically through a central economic structure," Dr Omisakin stated.
Dr Omisakin also reiterated the need for Nigeria to set out clear goals for shared prosperity, through a competitive and sustainable economy for all, through deliberate effort from government to ensure that the shared prosperity is for all. "There must be diversification and economic transformation, human capital development through macroeconomic stability, sound education, quality healthcare, robust social programs, security, economic and exchange rate stability," he stated.
Head of the department of Economics, University of Ibadan, Professor Adeola Adenikinju in his presentation said that Nigeria needs a private sector led economy led by a developmental state. He noted that Nigeria needs to look at specific sectors that can accelerate growth and reduce poverty, generate employment and provide linkages with other sectors of the economy. He said Trade, telecommunications, manufacturing, construction, education rank amongst the top sectors Nigeria should concentrate on to reduce gender imbalance and equity including increasing job creation.
"Some of these sectors require policy change and incentive structure through infrastructure provision. The areas government need to focus include enabling resource and promoting key sectors, providing enablers for development, strengthen inter sectoral and inter regional linkages, promote private sector participation in the economy and improve government financing," Professor Adenikinju stated.
During the panel discussion, the country director for Nigeria, World Bank, Mr Shubham Chauduhri stated that government must be able to invest in human capital, security and basic public infrastructure and that private firms and businesses must be empowered to grow and flourish to provide jobs. "For government to have fiscal resources, there has to be revenue and proper spending. The Nigerian Government revenue as a share of GDP is one of the lowest in the world. The tax paying public needs to have the confidence that government will spend the taxes appropriately," he noted.
Fiscal policy partner and Africa Tax Leader, Pwc, Mr Taiwo Oyedele said that Nigeria can mobilise revenue through the development of a different philosophy around tax generation. He noted that Tax harmonization is critical, as data shows Nigeria has 66 different official taxes, with about 200 unofficial taxes collected, but only 10 of those taxes gets to the government. He restated the need for the government to use data for intelligence by ensuring effective policy coordination, removal of impediments for people trying to raise finance through the capital market and focusing on equity finance.
Group executive director, Dangote industries limited, Engr Mansur Ahmed said that the concern of emigration is a reflection of the global problems. He noted that the problem of increasing poverty index that the country presently faces is a result of the policies that continue to deprive a vast number of citizens from the existing opportunities for shared prosperity. He revealed that many of the factors that continue to affect our economic prosperity include power, and that Nigeria must prioritise provision of energy to sectors that will produce the most output for economic growth and development.
The executive director, Policy Innovation Centre, NESG, Dr Osasuyi Dirisu in her statement stated that lack of a long-term focus and sustainable development has hampered shared prosperity in Nigeria. She said that decline in labour productivity growth rate and access to education has significantly affected the country's economic growth, noting that policies are not backed with the right budgetary allocation, enabling policy environment and behavioural drivers.