Posted Thu, Jul 20, 2023 8:08 AM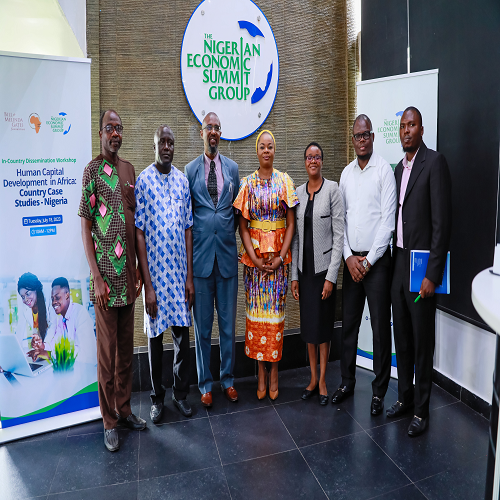 L-R - Dr. Musiliu Adeolu Adewole, Department of Economics, School of Management Technology, Federal University of Technology, Akure. Ondo State Nigeria; Yelwa Mohammed (Prof.), Department of Economics, University of Abuja; Dr. Tom Kimani Lead Manager, Training, African Economic Research Consortium (AERC); Dr Mories Atoki, Facilitator Health Policy Commission, NESG & Chief Executive Officer ABCHealth; Kehinde Oluwaseun Omotoso (PhD) National Centre for Technology Management (NACETEM), Obafemi Awolowo University, Ile-Ife; Mr. Sodik Olofin Economist, NESG; Mr. Wasiu A. Adekunle, Economist, NESG
On Tuesday, 18th July 2023, the Nigerian Economic Summit Group (NESG), in collaboration with the African Economic Research Consortium (AERC), held a webinar and dissemination workshop with the theme "Human Capital Development in Africa: Country Case Study – Nigeria."
In his welcome remarks, Chief Economist and director of research at the NESG, Dr Olusegun Omisakin, said that the workshop will look at different areas of human capital development and also how that can inform different policy recommendations at various levels of government, including the National, state and local governments. He stated that human capital development is not just a development indicator but the main indicator, noting that Nigeria has experienced high and low growth, including recessions, an indication of the capacity of our products and the need for improved human capital development indicators in terms of health, employment opportunities and skills.
In his opening remarks, Dr Tom Kimani, Lead Manager, Training, African Economic Research Consortium (AERC), stated that the AERC is focused on capacity building for economic policy in Africa and that the dissemination workshop focuses more on policy outreach. He noted that the AERC research program has a thematic and collaborative program, with the former focused on capacity building for young and early-career researchers. The thematic research has five themes, poverty, labour market and income distribution; Macroeconomic policy and growth; finance and resource mobilisation; production, trade and economic integration; and Agriculture, climate change and natural resource management.
While presenting a paper on "Foreign direct investments and human capital development in Nigeria: A firm-level Analysis of Manufacturing and ICT, an economist at the NESG," Mr Sodik Olofin, said that In Nigeria, recent FDI inflows are becoming more sensitive to the characteristics of the country's labour force. He noted that in the past years, FDI inflows usually focused on the oil-sector - resource-seeking activities, which have resulted in little or zero gains for the country regarding employment creation, capacity building for the existing workforce, and insignificant human capital gains. Mr Olofin reiterated that the direction of the new FDI inflows into Nigeria has resulted in divergent labour market outcomes, noting that these investments favoured technology-enabling sectors such as ICT, education, health, and manufacturing, which have high propensities for knowledge transfers, boosting employment and employability.
In the second paper presentation on "Analysing the Determinants of Healthcare Insurance Uptake in Nigeria," Mr Wasiu Adekunle, an Economist with the NESG, stated that Health insurance coverage in Nigeria has historically been low, with less than 5 per cent of Nigeria's over 200 million people being covered by health insurance, suggesting low uptake of healthcare insurance in Nigeria, as financing healthcare through private and public health insurance schemes accounts for about 1.9 per cent of the total current health spending in the country. He noted that despite the introduction of the National Health Insurance Authority (NHIA) Act in 2021, which makes health insurance mandatory for all citizens, the use of compulsion alone to increase the uptake of healthcare insurance might not guarantee the expected outcome.
Professor Yelwa Mohammed of the Department of Economics, University of Abuja, while presenting the paper on "Child development and family human capital investment decisions in Nigeria: a study of selected states in the six geo-political zones", said that Nigeria's economic growth and productivity depend on the development of human capital. He noted that the country's human capital development still needs to improve, particularly among low-income rural families who lack the means to invest in their children's futures. He stated that the lack of resource endowment in most households and cultural prejudices against girls are two main factors contributing to inadequate human capital development in Nigeria and that family size and per capita income also influence decisions about investing in human capital.
In her presentation on "The differential impacts of COVID-19 pandemic on education in Nigeria: implications for policy review," Dr Kehinde Oluwaseun Omotoso of the National Centre for Technology Management (NACETEM), Obafemi Awolowo University, Ile-Ife stated that before the COVID-19 pandemic, Nigeria's education sector was considered fragile and fraught with unequal access to schooling and learning experiences. She noted that the COVID-19 pandemic lockdown only exacerbated the problems of high rates of school absenteeism, dropout, and out-of-school children, which were relatively high before the pandemic.
Musiliu Adewole of the Department of Economics, School of Management Technology, Federal University of Technology, Akure, Ondo State, while presenting a paper on "Determinants of participation in large-scale school programmes in Nigeria", said that North-South disparities in school participation persist in Nigeria despite implementing two large-scale school expansion programs. He revealed that areas with complex pre-colonial government structures seemingly record higher school enrolment in Nigeria, while those with heavy investment in Koranic education report otherwise. He, however, also noted that areas with more complex pre-colonial government structures report poorer school enrolment when they have invested more in Koranic education, indicating evidence of a mismatch between modern economic demands and skills possessed by learners in Nigeria.