Posted Mon, Aug 29, 2022 3:39 PM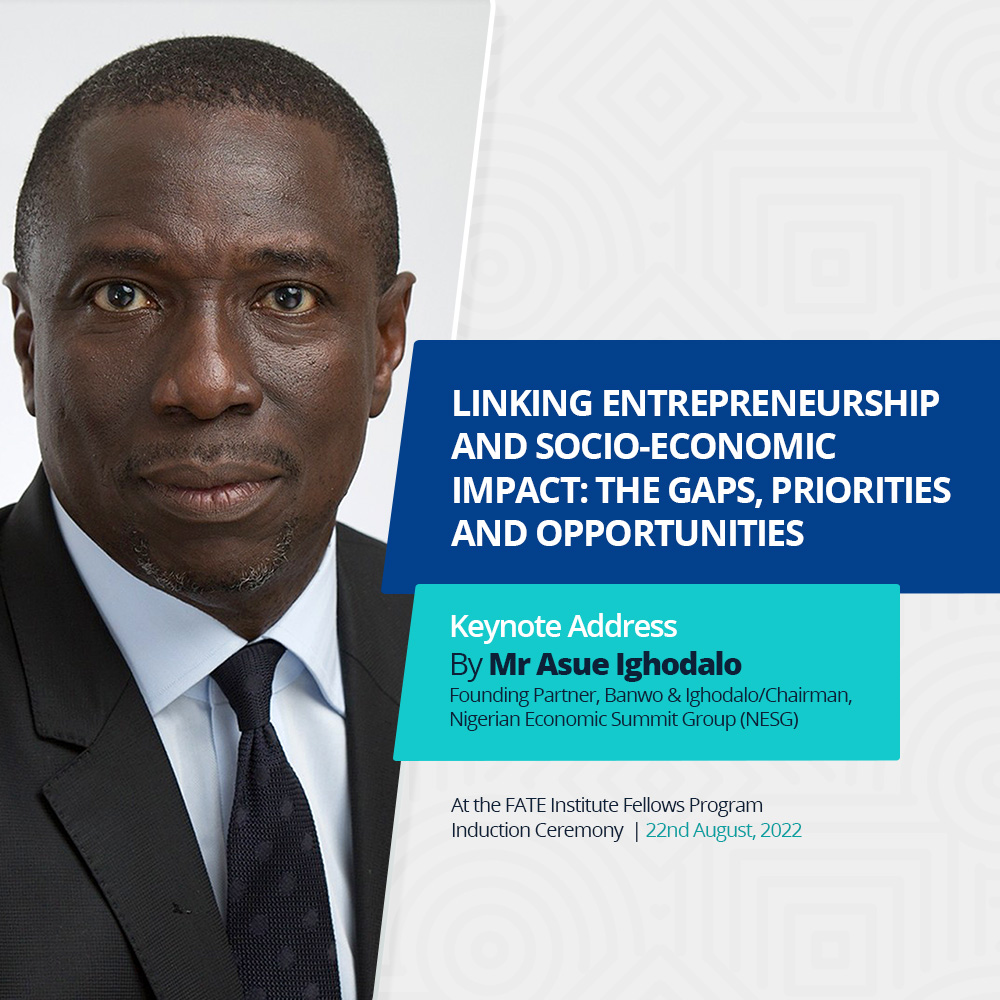 "LINKING ENTREPRENEURSHIP AND SOCIO-ECONOMIC IMPACT: THE GAPS, PRIORITIES AND OPPORTUNITIES".
KEYNOTE ADDRESS BY MR ASUE IGHODALO, FOUNDING PARTNER, BANWO & IGHODALO/CHAIRMAN, NIGERIAN ECONOMIC SUMMIT GROUP (NESG)
AT THE FATE INSTITUTE FELLOWS PROGRAM INDUCTION CEREMONY, 22ND AUGUST, 2022
1. Distinguished Heads of Ministries, Departments and Agencies, Board and Management of FATE Foundation, Captains of Industries, FATE Institute Fellows, The FATE Foundation Community, Entrepreneurship Program Managers, Members of the international community, gentlemen of the Press, distinguished ladies and gentlemen!
2. I am deeply honored to be asked to give the Keynote Address at this auspicious event of the Induction Ceremony of the FATE Institute Fellows Program. Let me start by saying a huge congratulations to the Fellows as they embark on this journey to support policy design, research, review and implementation processes that will address critical gaps limiting the potential of the Nigerian entrepreneurship ecosystem.
3. As we all know, the Nigerian entrepreneurship ecosystem has been a significant backbone of the Nigerian economy. Regardless the headwinds, the deep incompetencies and the inefficiencies in our environment, this ecosystem has sustained our economy. According to the most recent report of the National Bureau of Statistics (NBS), Micro, Small and Medium Enterprises (MSMEs) account for 49.8% of Nigeria's Gross Domestic Product (GDP) and constitute a significant share of the total number of businesses in Nigeria. In addition, MSMEs account for about 85% of total industrial employment and are spread across all sectors of the economy. According to the Fate Institute 2021 State of Entrepreneurship in Nigeria report, entrepreneurs are endemic across retail trade, fashion, FMCG, agriculture, hospitality and hotel, advertising and marketing, entertainment and events, small scale manufacturing, sdigital media and communications, health care, education and training, to mention a few.
4. These businesses have been instrumental in providing creative solutions, innovative ideas and value creation in the sectors where they operate, cutting across various sectors of the economy. Beyond the apparent quantitative metric, the sector has also contributed to positioning Nigeria on the global map. As reported in September 2021, Nigeria presently has the highest number of female entrepreneurs globally, reinforcing the entrepreneurial spirit of most Nigerians.
5. Besides their high economic value, MSMEs have been drivers of social change in Nigeria. In the last few years, we have seen several innovative solutions in critical sectors such as education and healthcare. These solutions have leveraged technology to link consumers/clients to markets/service providers, thereby breaking traditional barriers of infrastructure deficit, communication gaps and logistics bottlenecks. From the formal to the informal sectors, the deployment of technology to the traditional approach and the contributions of entrepreneurship has been immense. 
6. Despite the significant contributions of entrepreneurs, the business environment has not fully supported their potential and has been highly challenging. Also, the emergence of COVID-19, its attendant effects, the current macroeconomic issues and insecurity have worsened the situation across all sectors of the Nigerian economy.
7. According to the 2021 State of Entrepreneurship in Nigeria report, "traditionally, limited access to capital, high-interest rates, infrastructure deficit, inadequate power supply, lack of evidence-based policies, limited access to finance, lack of capacity, lack of incentives and institutional support, policy and regulatory inconsistency, and implementation dysfunctionalities top the list of challenges facing small businesses in Nigeria. To make matters worse, insecurity has now become a major barrier to the growth of small businesses in Nigeria. In addition, these businesses operate in a highly volatile, uncertain, complex, and ambiguous (VUCA) environment characterised by unpredictable policy changes making it difficult to do Business in Nigeria.
8. How did we get here? What has been done to develop and support the Entrepreneurial Ecosystem, given the importance of MSMEs to the economy? How has the government supported or provided a cushion to hedge against headwinds?
9.Over the years, we have had various funding and MSMEs support initiatives for entrepreneurs, which I will enumerate later in my speech. However, one of the effectively coordinated efforts at the federal level towards supporting MSMEs commenced with the establishment of the Small and Medium Enterprise Development Agency of Nigeria (SMEDAN) in 2003, enacted through the SMEDAN Act, with the mandate to:
"stimulate, monitor and coordinate the development of the MSMEs sub-sector;

Initiate and articulate policy ideas for small and medium enterprises growth and development;

Promote and facilitate development programmes, instruments and support services to accelerate the development and modernisation of MSME operations;
Serve as the vanguard for rural industrialisation, poverty reduction, job creation and enhanced livelihoods;

Link MSMEs to internal and external sources of finance, appropriate technology, and technical skills as well as to large enterprises;

Promote and provide access to industrial infrastructures such as layouts, incubators, and industrial parks;

Intermediate between MSMEs and Government [SMEDAN is the voice of the MSMEs] and

Work in contact with other institutions in both public and private sectors to create a suitable enabling environment for business in general and MSME activities in particular.
10. One of the critical outcomes of this mandate was the development of the first National Policy on MSMEs in 2007 and, also, in 2010, with subsequent reviews. There was also a collaboration between SMEDAN and the National Bureau of Statistics (NBS) to create the first NBS-SMEDAN Survey to drive evidence-based policy advocacy. The second NBS-SMEDAN SME Survey was subsequently conducted in 2013. We have had periodic releases of the MSME Survey jointly released by NBS and SMEDAN. Thus, on the one hand, we have had the data; on the other hand, we had a policy, albeit with some limitations in scope and coverage.
11. With the data as evidence, there was no doubt that a nurtured, well-structured MSMEs sub-sector could contribute significantly to employment generation, wealth creation, poverty reduction, accelerated rural development and sustainable economic growth and development in Nigeria. Consequently, in 2013, the "National Enterprise Development Programme (NEDEP)" was developed to generate an estimated 5.0 million direct and indirect jobs between 2013 and 2015, with a focus on skills acquisition, entrepreneurship training/business development service (BDS) and access to finance. The entrepreneurship training/business development service component was implemented under the One Local Government One Product (OLOP) platform, the access to finance component by the Bank of Industry (BOI) and the skills acquisition by the Industrial Training Fund (ITF). As a result, some benefits were accrued from this initiative. However, there are questions of accessibility and accountability, just as with other funding initiatives.
12. Needless to say that the sector continues to be plagued by deficient access to affordable finance, poor access to Business Development Service (BDS), poor access to market, inadequate infrastructure, and high cost of doing business, among other challenges.
13. The access to funding challenge has consistently been touted as one of the significant challenges pervading Nigeria's entrepreneurship ecosystem. According to the PwC 2020 MSME Survey, obtaining finance is the most pressing challenge for Micro, Small and Medium Enterprises (MSMEs). PwC estimates that the financing gap for Nigerian MSMEs is about N617.3 billion annually (pre-COVID-19 pandemic). According to the 2018 statistical bulletin of the Central Bank of Nigeria (CBN), only 0.3% of total commercial banking credit was availed to small businesses. Also, less than 5% of SMEs have access to adequate finance for working capital and funding business growth/expansion, according to the National Bureau of Statistics (NBS).
14. Several funding initiatives were established to provide more funds to support entrepreneurs to bridge the funding gap. Some of you would remember that in 1956 the Federal Loans Board was established to carry on the lending activities of the British Colony department board which was disbanded to specifically support the indigenisation of private enterprise. We then had the Small-Scale Industries Scheme in the 1970s and later the Nigerian Bank of Commerce and Industry Loan Scheme and the Special Fund for Small Scale Enterprises Loan Scheme in 1980 with flagship programmes like "Better Life for Rural Women", then the Agricultural Credit Guarantee Scheme Fund (ACGSF) was rolled out to address SME transformation in agriculture value chains in 1989. By 1999 a significant number of the programmes of the National Poverty Eradication Programme (NAPEP) founded in 2001 by the Nigerian government were targeted at SME Development, Funding and Support.
15. We also had the National Economic Reconstruction Fund (NERFUND); by 1999- the SME Equity Investment Scheme (SMEEIS); by 2001- the Commercial Agricultural Credit Scheme Fund (CACS) was set up; in 2006 we had the Agricultural Credit Support Scheme (ACSS); in 2009- the National Economic Reconstruction Fund (NERFUND); in 2010 the Central Bank of Nigeria initiated the Small and Medium Enterprises Credit Guarantee Scheme​; in 2011 the Nigerian Incentive-Based Risk Sharing System for Agricultural Lending (NIRSAL) was established; Also, in 2011 the YouWin Programme of the Federal Government was initiated (first lined into SURE-P, and now been modified to the YouWin Connect Programme). Another initiative by the CBN in 2013- CBN was the Micro, Small and Medium Enterprise Development Fund (MSMEDF). In 2014 we had the Fund for Agricultural Finance for Nigeria (FAFIN) and the Real Sector Support Facility. In 2017 the - Government Enterprise Empowerment Programme (GEEP) and the CBN Agriculture Business Small & Medium Enterprises Investment Scheme ​(AGSMEISS) were established. The GEEP (Government Enterprise and Empowerment Programme) is one of the social intervention programmes of the Federal Government of Nigeria (FGN), executed by the Bank of Industry, consisted ofTrader Moni, MarketMoni, and FarmerMoni, which are mainly micro funding programmes.
16. In between these funding interventions, institutions were also created by the government to manage and disburse funds targeted for the MSME space; the Bank of Industry was established in 2001; the Bank of Agriculture was established in 2009 and the Development Bank of Nigeria (DBN) in 2014. In addition, the Nationwide MSME Clinics, a physical platform that brings in stakeholders from the regulatory space to interface with MSMEs, whether NAFDAC, CAC, or FIRS, was also established, and the Business Innovation Growth Programme supported under the World Bank Project is another MSMEs support intervention.
17. Unfortunately, due to implementation dysfunctionalities, lack of focus and policy inconsistencies, these interventions, initiatives and policies have had limited positive impact in the ecosystem.
OPPORTUNITIES
18. Regardless of the problems and our attempted solutions around improving the National Entrepreneurial Ecosystem; opportunities abound for a virile and adaptive ecosystem.
19. Firstly, is the opportunity of export markets; in 2020, Nigeria exported $39.1 billion worth of products and services, with exports declining at an annual rate of 5.2% over the past year, which has been a drag on the overall economic growth as exports represent a shrinking segment of the economy. Non-Oil Exports have declined by 0.5% annually over the past five years, falling below the global average growth. With imports of $63.3 billion in 2020, Nigeria had a trade deficit in goods and services. While this sounds like a problem, it is an opportunity. Of the $63.3 billion worth of imports, the CBN notes that we can achieve sufficiency in almost $25 billion worth of the imported items if we unleash the demand and factor conditions for local firms and their supporting SME industries to achieve competitiveness and market infrastructure maturity. However, high informality, access to finance, embedded structural corruption, weak economic clustering and incoherence in market-developing policies continue to trap domestic economic value addition and creation.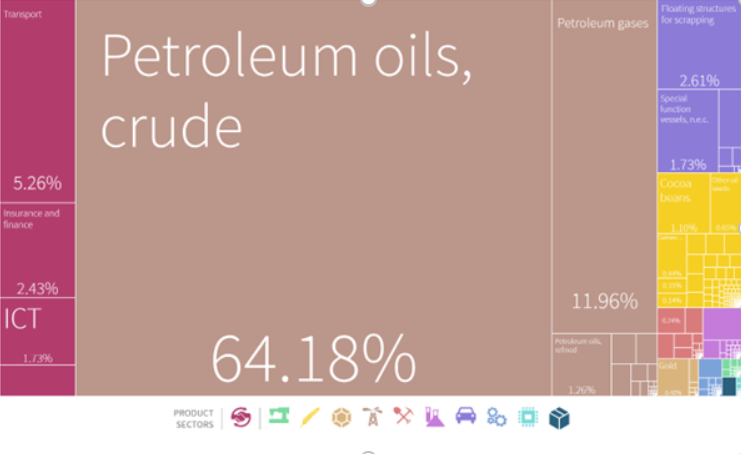 20. Unfortunately, the shrinking structure and trade volume continued to be Oil-led by approximately 80%. One of the problems with Nigeria is that we continue to be a low-complexity economy. In other words, we do not manufacture and export complex products at scale, and therefore, we do not earn any significant foreign exchange from manufacturing. While we struggle with our own unique monetary policy inconsistencies, which we keep highlighting at the NESG, the country does not export the volume of moderate to highly complex products that drive a diversified export revenue base to sufficiently create non-oil resilience that buffers our foreign reserves. This is an entrepreneurship problem – It means that the capacity of our enterprises to transform our raw materials into finished or processes exportable products that are complex to drive growth is low.
21. When Nigeria is compared to Indonesia, a country with a very similar natural resource base like Nigeria, that discovered oil in the same decade, we see a different structure of the economy. Over the last 30 years, Indonesia mobilised its entrepreneurial ecosystem from low complexity products to high complexity products and diversified its revenues, which used to be 80% Oil-Based. In 2020, Indonesia had export revenues of $177Billion, (with petroleum products being only 3% of the exports), with ICT higher at 4.74 %, Palm Oil and Processed Agriculture Products (25%), Gold 3.38 (%) and had a Trade Surplus of $3.3 Billion.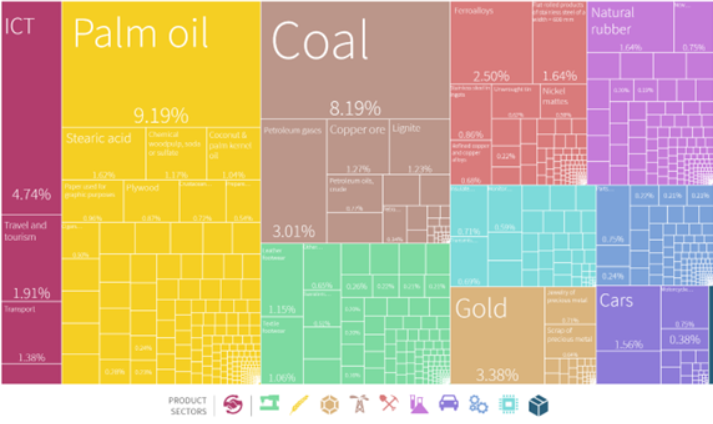 22. The narrative of this comparison is this: that a network of well-organised, well-connected and integrated SMEs within business clusters that drove formalisation, supported by an export-oriented government policy, made Indonesia more competitive than Nigeria over six decades.
23. Secondly, an export orientation accelerates technology know-how to compete globally – this is an opportunity. There is a fixation in Nigeria on protectionist policies that claim to protect local businesses – this has its place – but it might be overstated. With the exception of a few short term measures in a global crisis, the evidence points to the counterfactual as been more progressive and results-oriented – a posture on export-orientation fosters long term economic growth and revenue diversification. When GDP diversification is not underpinned by export diversification, non-oil sectors continue to lack resilience. Export-Orientation forces MSMEs to coordinate better, consolidates value-chain integration and accelerates the aggregation of knowledge and innovation capital required to produce high-quality goods and services that can compete in the global product space. This aggregation of collective know-how makes the Germans competitive in automobiles, Finland competitive in computing technology, and Japan competitive in electronics etc.
24. Thirdly, there is an opportunity for capital formation. One of the contributions that the MSME sector added to the Indonesia Economy is that it accelerated the development of other asset classes. According to the Indonesian Investment Authority BKPM, Indonesia has attracted US$31.1 billion in foreign investment (FDI) in 2021. This is an increase of $2.4 billion compared to the previous year and the highest value since the record year 2017 ($32.1 billion). This is Post-COVID. Its thriving entrepreneurial environment continues to be attractive capital. When an economy enters a steady transition, what happens is that the driver moves to the competitiveness of the local firms, and they are the ones that attract the capital. Approximately half of the direct investments came from Germany and went to the mechanical engineering/electronics/medical technology/measuring and control technology sector (29 projects) and one quarter in mining (10 projects). Consequently, when we ask investors to bring their money here, apart from our insecurities and macro economic instabilities, they ask where the support asset classes that will drive their growth are.
25. Fourthly, there is an opportunity for policy entrepreneurship. In the countries that seem to progress, there is an agreement that entrepreneurial leaders must be given the space to define the boundaries of what is possible. The policy, legislation and regulations come later to establish and frame the order of things. There is plenty of opportunities for the Nigerian Entrepreneurial Ecosystem to benefit from ideas that allow market formation, market convergence and strategic leaps that drive exponential economic growth across sectors. The country needs policymakers that spend time meeting with businesses that innovate and learning what policies will drive productivity at scale. This is the kind of policy entrepreneurship that I hope the inaugural fellows of the Fate Institute will pay attention to – Do not sit behind your screen only looking at spreadsheets and analytical data – Go and see! Go out and learn from the entrepreneurial practitioners across the ecosystem about what solutions will work for us at scale. It is also critical that you devise how these solutions will be implemented and made to work.
26. In closing, I seek to suggest and summarize the realistic priorities required to aggressively and effectively fuel this ecosystem. I have talked extensively about access to finance and our financing initiatives over the years. Dear Fellows you must come up with a process and implementation system that will make entrepreneurship financing work and work efficiently and corruption free.
27. Incentives must be devised to encourage the private sector and net savers to channel funds into this ecosystem in an efficient and stressful way. We must also incentivise the provision of alternate power sources, especially in our clusters and rural areas. Government must be forced to pay attention to our routes to market and routes to ports. Our export processes must be simplified and made much more efficient. As difficult as it is to envisage, considering the long drawn ASUU strike, we must return to establishing vocational institutions and running them well. These are our irreducible minimums if we want to forge an entrepreneurship ecosystem that will propel inclusive growth.
28. To the FATE Institute, research, policy, advocacy policy support and collaboration work can be frustrating and seemingly thankless especially when you are in an environment populated by policy makers who do not understand or appreciate the impact of the work we do. But you must not relent and you must never give up. You must strive to be a world class institute working and collaborating with the best minds available. Ultimately, we always see the fruits of our labour.
29. Let me share a quick story. I am sure people familiar with the NESG would have heard of this story before, but some will be hearing this for the first time. During the Obasanjo era, the NESG pushed for a reform of the Nigerian Pension Scheme. The first time we approached the old General, he chased us out, calling us thieves… However, we had the data, did our homework, and knew what lay ahead if the reforms were not carried out. Therefore, we did not back down based on our research and we continued to engage. As they say, the rest is now history. Almost two decades after the reform, we are all benefiting from the impact of the Pension Reform Act.
30. To our Fellows, today's inductees, over the next 20 months you will engage in cerebral work of immense proportions with the capacity and opportunity to produce transformational work that would benefit our dear country and which if in the right hands could catalyse inclusive economic growth. I charge the six of you to please seize the moment.
31. Let me leave you with those immortal and thought-provoking words of Victor Hugo:
"Nothing is stronger than an idea whose time has come"
"Armies cannot stop an idea whose time has come"
32. I thank you all for listening.