Posted Tue, Jul 18, 2023 10:25 PM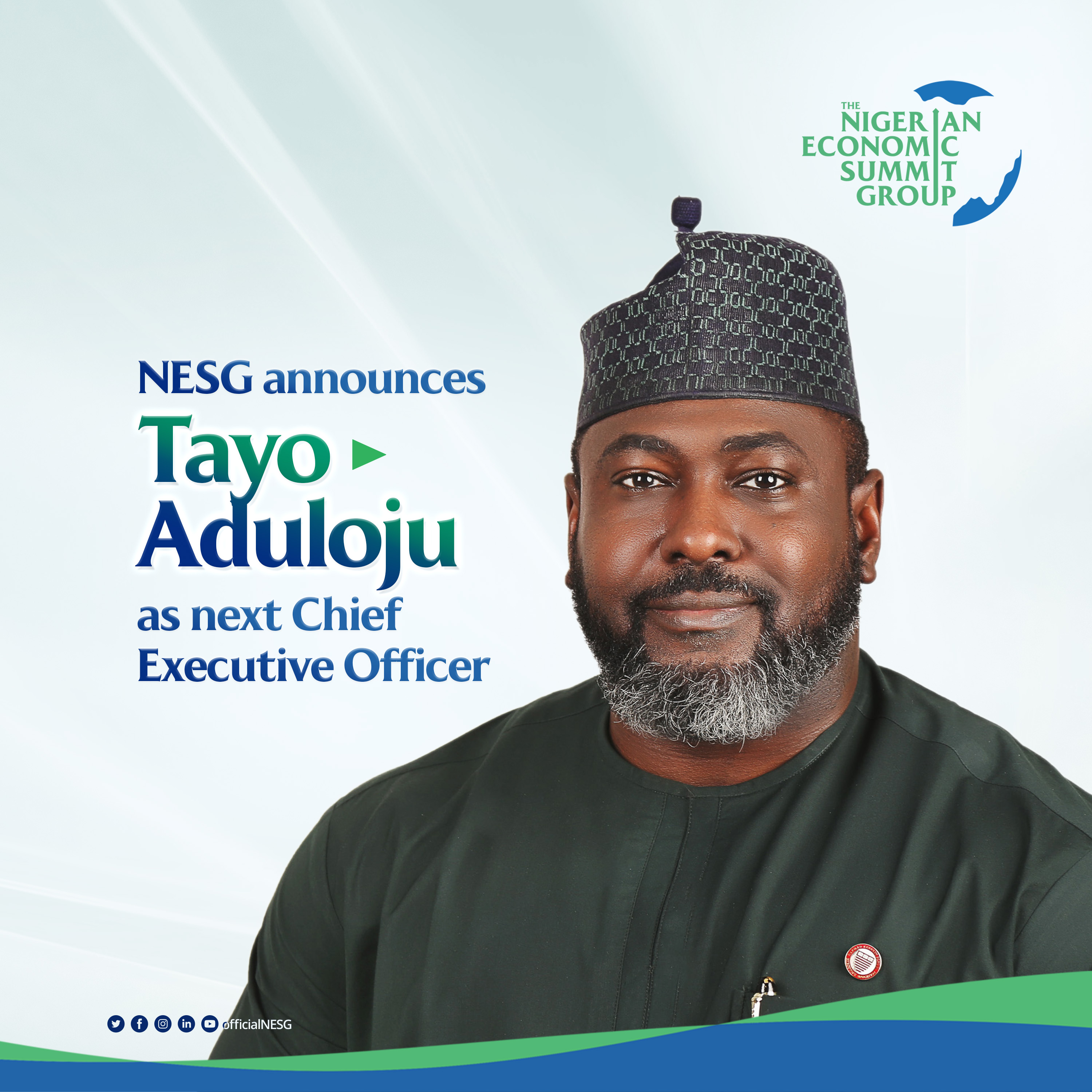 NESG announces Tayo Aduloju as the next Chief Executive Officer
For immediate release
Lagos, July 19, 2023: The Nigerian Economic Summit Group (NESG) proudly announces the appointment of Dr. Tayo Aduloju as its new Chief Executive Officer (CEO), effective January 1, 2024. Dr. Aduloju, who currently serves as the Chief Operating Officer (COO) and Senior Fellow for Economic Policy, Strategy, and Competitiveness, will succeed the esteemed CEO, Mr. 'Laoye Jaiyeola, upon the completion of his two-term tenure.
Under Mr. Jaiyeola's transformational leadership, NESG has taken a quantum leap, utilising technology and data to promote the inclusive and sustainable growth of Nigeria's economy while upholding its core principles of a free-market economy, the rule of law, and governance in the national interest. The Chairman, Board of Directors, NESG Mr. Niyi Yusuf, expresses heartfelt gratitude to Mr. Jaiyeola for his dedicated service and impact.
As the incoming CEO, Dr. Tayo Aduloju brings exceptional vision and expertise to NESG. A distinguished scholar-practitioner, economist, policy entrepreneur, and strategist, he has contributed significantly to various reform initiatives, spanning sectors such as aviation, agriculture, finance, governance, maritime and public service. Dr. Aduloju's experience includes advising former Presidents Yar'Adua and Obasanjo, as well as spearheading the NESG's national public-private leadership forums and promoting sustainable development.
Dr. Tayo Aduloju, with an illustrous academic background as an alumnus of the Federal University of Technology, Akure, University of Oxford, Massachusetts Institute of Technology, possesses the ideal qualifications to lead NESG through its upcoming phase. Notably, Dr. Aduloju holds several distinguished accolades, including the Walden University 2022 Citizens Award for the College of Social and Behavioral Sciences. He has earned a Doctor of Philosophy Degree in Economic Policy and Public Administration. Dr. Aduloju is also a graduate and alumnus of the John F. Kennedy School of Government at Harvard University, in addition to holding an Executive Certificate in Economic Development from Harvard Kennedy School. He is a fellow of esteemed professional institutions, including The Chief of Staff Association, the Institute of Strategic Management in Nigeria, and the Institute of Management Consultants in the United states.
Established in 1996, NESG is a non-profit, non-partisan organisation dedicated to advancing economic reform in Nigeria. Through its research, programs, and engagement, NESG has become the leading platform for public-private dialogue, fostering collaboration among the government, private sector, and stakeholders. NESG's commitment to creating a modern, globally competitive, sustainable, inclusive, and open economy remains unwavering.
NESG looks forward to Dr. Aduloju's visionary leadership as its 6th CEO and the continued pursuit of its mission to transform the Nigerian economy. The organisation remains committed to driving positive change, facilitating crucial reforms, and collaboration to shape a prosperous future for Nigeria.
Nigerian Economic Summit Group
info@nesgroup.org