Posted Fri, Sep 1, 2023 5:50 PM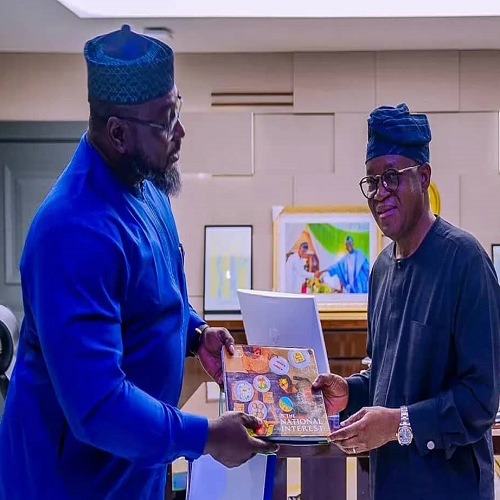 The CEO-Designate of the Nigerian Economic Summit Group (NESG), Dr Tayo Aduloju, paid a courtesy call to the Honourable Minister for Marine and Blue Economy, Mr Adegboyega Oyetola, to discuss ways to harness the potential of the maritime sector.
The objective of the meeting was to establish a working relationship that would support an effective marine and blue economy governance and policy framework.
While welcoming the CEO-designate of the NESG, the Honourable Minister noted that for the Economy to be "Blue," the ministry under his stewardship must measure its performance across economic, social and environmental values.
The Ministry of Marine and Blue Economy and the NESG agreed to build a national collaborative, inclusive and participatory policy and reform process towards making the Marine and Blue Economy - a major contributor to GDP, a key destination for Foreign Direct Investment, a significant employer of labour, a formidable mode of transport and a key driver of national competitiveness.
The NESG, on her part, committed to work with the Minister to develop a framework for marine competitiveness (ports efficiency, maritime competitiveness, linear and country connectivity, and oceanic assets competitiveness across Nigeria's 350 nautical miles seaward and 220 nautical miles coastline).
The NESG also pledged its Policy Commissions and Thematic Working Groups across the value chains of marine and blue Economy to work with the Minister and national stakeholders to pursue quick wins, short-, medium-term and long-term outcomes that reposition sectors and achieve the new administration's right-point agenda.