Posted Tue, Sep 24, 2019 4:54 AM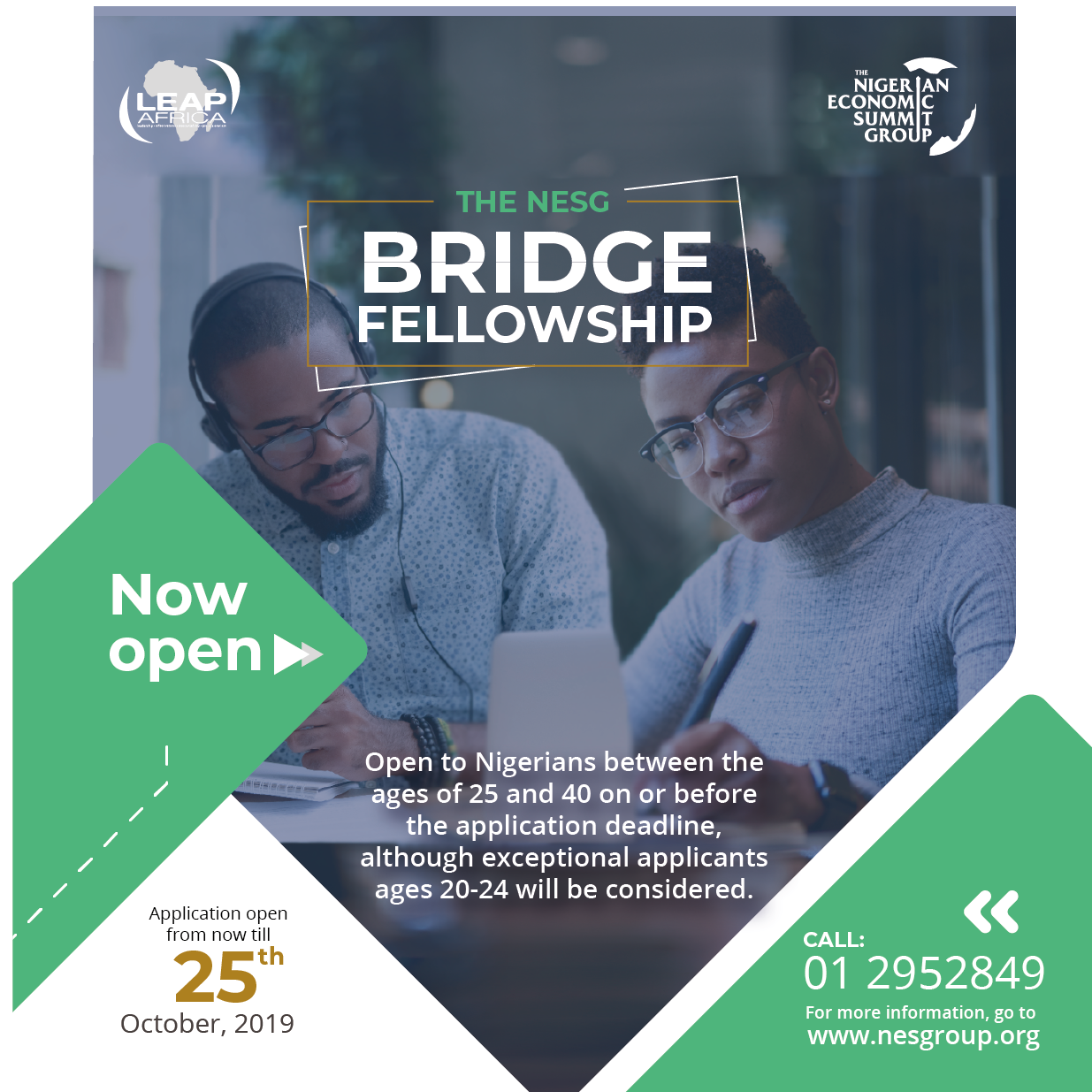 The Nigerian Economic Summit Group (NESG) in conjunction with LEAP Africa is pleased to announce the NESG Bridge Fellowship. The NESG Bridge Fellowship is a merit-based fellowship jointly designed and administered by the NESG, a private sector Think-Tank and Policy Advocacy Group, and LEAP Africa, a youth-leadership development non-profit organization.
The NESG Bridge Fellowship is designed to inspire and equip a new generation of young visionary Nigerian leaders, with the skills to carry out policy-oriented research and advocacy for national transformation. Selected participants will undergo a rigorous and engaging capacity development process where they will contribute to knowledge production and policy at the national level.
Fellows will conduct their policy research and advocacy activities in-line with the Nigerian Economic Summit Group's (NESG) 11 policy commissions, which include: Energy, science and technology, manufacturing and solid minerals development, agriculture and food security, infrastructure and logistics, human capital development, governance and institutions, trade investment and competitiveness, finance financial inclusion and financial markets, sustainability and tourism, hospitality, entertainment, creative and sports industries policy commissions.
Selected applicants will be enrolled into an 18-month fellowship during which they will develop leadership, research and policy engagement skills and competencies; participate in policy research and advocacy work, as well as implement social impact projects. These professionals will be drawn from across the 36 states of Nigeria from academia, the private, public and development sectors through a stringent selection process.
By the end of the fellowship, fellows will
Have a deep understanding of the policy-making process.
Be confident to lend their voices to policy discourse.
Be able to represent the private sector in policy discourse.
Be part of a community of young change makers in the policy space.
Eligibility
The NESG Bridge Fellowship is open to young Nigerians who meet the following criteria:
Are between the ages of 25 and 40 on or before the application deadline, although exceptional applicants ages 20-24 will be considered.
Are Nigerian citizens who are permanent residents within the country.
Are not employees or immediate family members of employees of the NESG or LEAP Africa.
Are able to undergo rigorous research training for a period of 18 months.
Are proficient in reading, writing, and speaking English.
Have demonstrated consistent interest in research and public policy, community development, social work, business and/or social entrepreneurship
Applicants will not be discriminated against on the basis of gender, ethnicity, religion, socio-economic status or disability.
The NESG and LEAP Africa reserve the right to verify all of the information provided in the application. In the event that there is a discrepancy, or information is found to be false, the application will immediately be declared invalid and the applicant ineligible.
Application and Selection Process
Participants will be required to submit:
An application form
A Cover Letter, stating your motivation and why you should be selected for the fellowship.
A 500-word essay sharing your thoughts on a policy issue of their choosing - related to one of the 11 policy commissions of the NESG – and why you think this issue is important.
A two-minute video briefly describing who you are and explaining the reason for your interest in the policy issue you wrote about.
Any additional document (of not more than three pages) to support your application e.g. an article with a policy focus, learnings or outcomes of a community project or social work, etc.
Important Dates
Application deadline: 25th October, 2019
Selected applicants notified: 29th November2019
Selection Criteria
Applicants will be shortlisted based on the strength of their applications including:
Demonstrated and consistent interest in research and public policy, community development, social work, business and/or social entrepreneurship.
Demonstrated knowledge of, interest in, and professional experience in one or more of the 11 policy commissions of the NESG.
A contemporary understanding of youth challenges in Nigeria from a youth perspective.
A commitment to contribute to public policy for national transformation, and apply the skills and training to benefit Nigeria.
Ability to work cooperatively in diverse groups and respect the opinions of others.
Strong social and communication skills.
An energetic and positive attitude.
The Nigerian Economic Summit Group (NESG) is a non-profit, non-partisan private sector organisation with a mandate to promote and champion the reform of the Nigerian economy into an open, private sector-led globally competitive economy. It was established in 1996 by a group of passionate and concerned private sector leaders as a platform for bringing together private sector leaders and senior public sector officials to discuss and dialogue on the future of the Nigerian Economy.
Over the years, the NESG has achieved significant progress in the areas of research outputs, execution of programmes, seminars, conferences and workshops aimed at facilitating the formulation and implementation of social and economic reform programmes for the growth and transformation of the Nigerian economy. The NESG has emerged as the most notable platform for public-private dialogue in Nigeria, and has also established an excellent working relationship with the Government of Nigeria, the public sector, private sector, and other stakeholders.